RECIPES OF THE MONTH
Welcome to my healthy recipes of the month!
1 Corinthians 9:27
But I discipline my body and keep it under control, lest after preaching to others I myself should be disqualified.
TO PURCHASE HEALTHY COOKBOOK!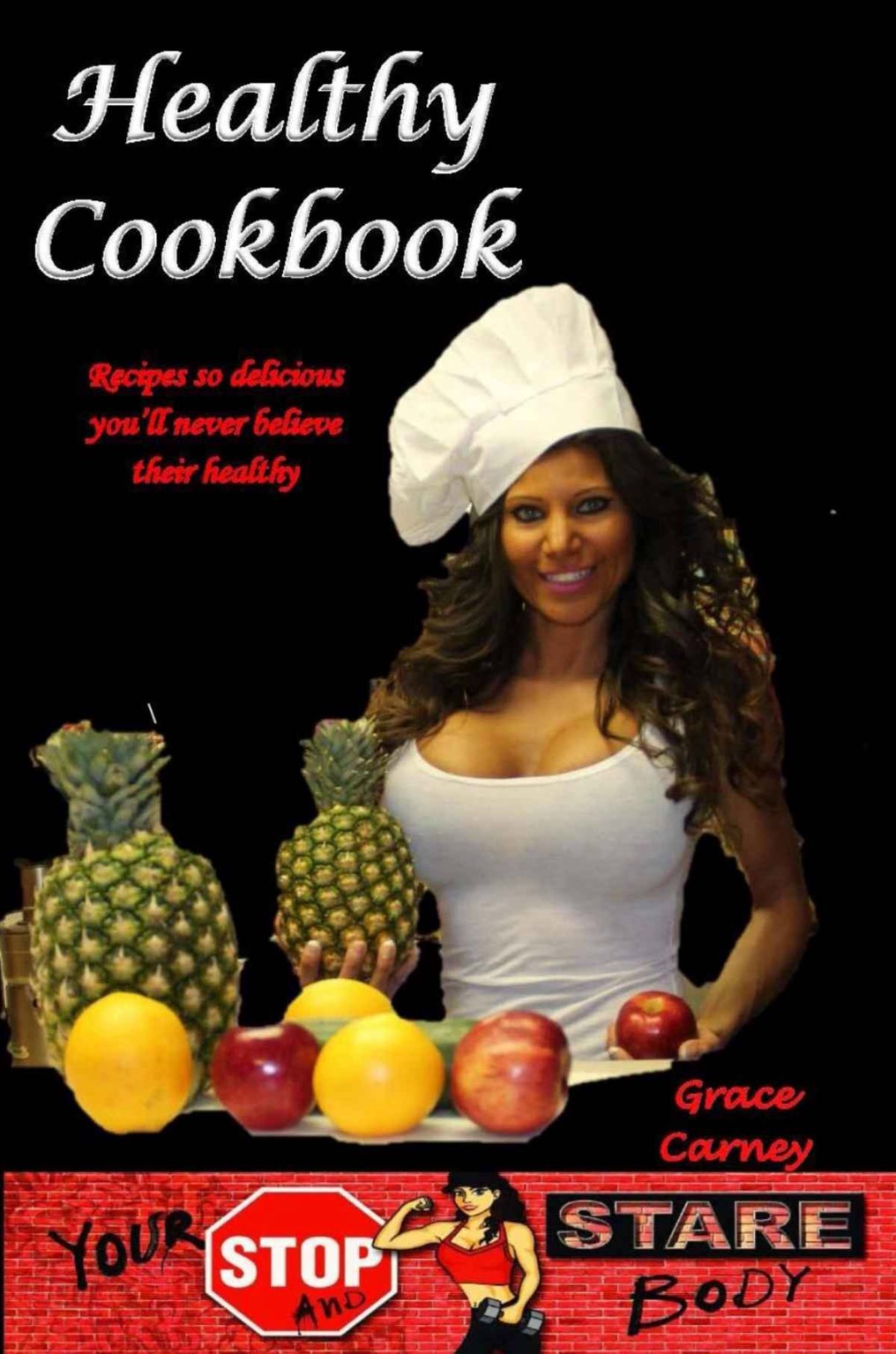 JANUARY

Healthy Banana Nut Bread
By:  Grace Carney

3 Cups Whole Wheat Flour

1 teaspoon Baking Soda

2 teaspoons Cinnamon

1/2 teaspoon Apple pie Spice

4 packets Splenda or Stevia


1/3 C Flax Seeds

1/3 Cup Wheat Germ

1 Egg

1/2 Cup Vanilla Fat-Free Yogurt


1 teaspoon Vanilla

3 Mashed Bananas

1/3 Cup Walnuts (optional)

1/2 Cup Water
Combine all ingredients in large bowl and mix on medium speed until blended.  (add more water if needed)  Pour into (olive oil) greased bread pan.  Bake at 350* for 40 minutes or until knife comes out clean.  Cool on rack before storing.
NOTE:  Bread will only stay fresh for 3-4 days since there are no preservatives added.
Servings:  12 slices,  Calories:  149.9 per slice (w/O Walnuts)
February

Healthy Oatmeal Cookies
By:  Grace Carney
1/2 Cup Whole Wheat Flour

1/2 Cup Coconut Flour (My new Fav ingredient!)

1 Cup Quick Oats

1/4 Cup Ground Flax

1/2 teaspoon Baking Powder

1/2 teaspoon Sea Salt

6 Packets Stevia

2 teaspoons Cinnamon

1 teaspoon Apple Pie Spice

1 teaspoon Coconut Extract

1 Egg

1/2 Cup unsweetened Applesauce

2 Tablespoons Water (Add more if too dry)

Combine all dry ingredients.  Add remaining ingredients and mix on medium speed until well blended.   Drop  teaspoon size mixture 2 inches apart on (olive oil) greased cookie sheet.  Bake at 350* for 8-10 minutes.  Cool on rack or wax paper completely before storing in airtight container.  Cookies should stay fresh for 5-7 days.
NOTE:  If your not a coconut fan, substitute the coconut extract for Vanilla Extract and the Coconut Flour for Whole Wheat.
Makes 34 Cookies.  29 Calories Per Cookie.
March

Greek Egg White Omelette
By:  Grace Carney
8 Egg Whites

5 oz thawed & squeezed dried spinach

1/2 C. halved grape tomatoes

1/4 C. halved (reduced sodium) black olives

1/4 C. (fat free) crumbled feta cheese

1 T. Olive Oil

1 t. Mrs. Dash (Original Flavor)

Black Pepper to taste
Combine all ingredients (except Feta) in bowl with fork/whisk.  Mix generously.  Pour half mixture into olive oil greased frying pan.  Cover and cook for about 5 minutes (or until eggs are done).  Add most of Feta on top of omelette,  fold in half, sprinkle remaining feta on top and serve.  Repeat for second omelette.
Makes 2 Omelettes – 2 servings.  277.5 Calories per serving.

Protein Waffles
By:  Grace Carney
1/2 C. Uncooked Oats

4 Egg Whites

1 Whole Egg

2 t. Cinnamon

2 Scoops Vanilla Protein Powder


1/2 C. Almond Milk

Sugar Free Syrup

Banana Slices (Optional)

Mix all ingredients together in large bowl.  Pour into waffle maker.
Makes 6 Large Waffles.  99 Calories Per Waffle (Not including SF Syrup or fruit)
May
Asparagus & Feta Quiche
By:  Grace Carney
Crust:
1 cup oats
1/3 cup oat bran
1 T. Olive Oil
3 tablespoons cold water
Filling:
3 Stalks Asparagus (Cooked & chopped)
1 C. sliced mushrooms
3/4 C. Almond milk
1/2 C. Fat free Cottage Cheese
1/4 C. sliced reduced sodium black olives
1/4 C. grated Parmesan cheese
1/2 t. sea salt
1/4 t. black pepper
3  egg whites
2  eggs
1/2 C. Fat Free Crumbled Feta Cheese
Preheat oven to 375°.
To prepare crust, combine oats, oat bran & olive oil.  Add water; stir just until moist. Roll dough into a ball and press into 9in. olive oil greased pie pan.
Bake at 375° for 7 minutes. Cool.
Combine all ingredients & pour into cooled pie shell.
Bake at 375° for 35 minutes or until a knife inserted near the center comes out clean. Let stand 5 minutes.
Makes 1 pie = 8 servings 155 calories per slice.  1238 Calories per Quiche.
June
Garlic Red Pepper Hummus
By:  Grace Carney
1 16 oz. can Garbanzo Beans (Rinsed & Drained)

3 Cloves Garlic

1 Red Pepper (quartered)

1 teaspoon Cumin

2 T. Olive Oil

1 1/2 T. Tahini

3 T. Lemon Juice

Fat-Free Feta Cheese (optional)

Parsley (to garnish)

Combine all ingredients in a food processor until thoroughly blended & smooth.   Garnish with Fat-Free Feta (optional) & Parsley.   Serve with pita or crackers (whole grain/wheat preferably 😉 )   Store in covered container & refrigerate.
Entire Recipe = 950 Calories (not including feta)